"Welcome to Show Business" is the fourth episode of Cimorelli's web series Summer With Cimorelli. The episode was uploaded on June 24th, 2014.
Synopsis
The Cimorelli girls are almost out of money and the monkey's back again. They try to earn money by trying out for the new musical based upon the fictional television show "Savanna Louisiana".
Summary
Lisa desperately searches for food throughout the house, until she finds the monkey hiding in their pantry eating their jelly. Now the girls are stuck outside waiting for the animal trainer to come pick up the monkey, until they realize they don't have money to pay the guy. In a last minute desperate attempt, the girls try out for a musical based on a tv show, but ultimately fail in getting the roles.
Transcript
Read the full transcript here.
Video Gallery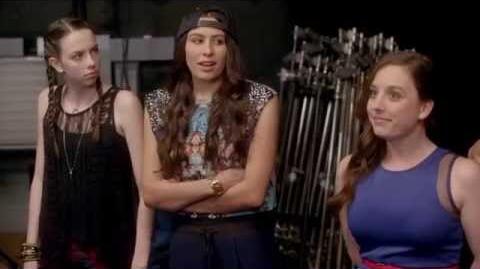 Ad blocker interference detected!
Wikia is a free-to-use site that makes money from advertising. We have a modified experience for viewers using ad blockers

Wikia is not accessible if you've made further modifications. Remove the custom ad blocker rule(s) and the page will load as expected.