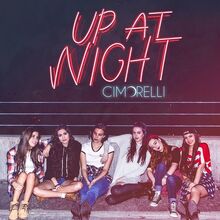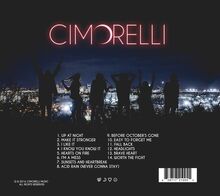 Up At Night is the debut full-length album that Cimorelli is releasing May 18, 2016. All of the songs were written by the girls. It has 14 songs. Hearts on Fire and Fall Back were the first to be revealed as two of the songs on the album. The girls also said there will be a song on there called Worth the Fight.
The album is available for pre-order here: http://www.pledgemusic.com/projects/cimorelli
Trivia
Worth the Fight is about the fans.
They announced this album in their Livestream on 2/13/16.
The album is named after a song Christina wrote, she released a demo on their Snapchat that can be found on YouTube.
Lauren revealed Easy to Forget Me will be on the album.
A song called Sunsets and Heartbreak will be on the album.
There is a song called Acid Rain on the album, which is the song Lauren wrote.
There's another track rumoured to be called Brave Heart that will be on the album.
Lisa confirmed I'm a Mess would be on their album in their tour rehearsal Livestream on 3/23/16.
Lisa confirmed Boom wouldn't be on the album in their Livestream on 2/13/16.
Lauren revealed on Twitter that Don't Think About It won't be on the album.
Christina and Lisa revealed that I Like It and a song called I Know You Know It are on the album when they played some previews of songs that would be on the album.
Christina confirmed Before October's Gone will be on the album when she played a snippet of the track on snapchat, and Dani also confirmed this during their Livestream on 3/29/16.
Christina confirmed a song called Make It Stronger will be on the album when she played snippets of album tracks on snapchat.
Cimorelli released the official album artwork and the tracklist on PledgeMusic on 5/4/16.
Tracklist
Up At Night
Make It Stronger
I Know You Know It
Sunsets And Heartbreak
Acid Rain (Never Gonna Stay)
Headlights
Brave Heart
Worth The Fight
Ad blocker interference detected!
Wikia is a free-to-use site that makes money from advertising. We have a modified experience for viewers using ad blockers

Wikia is not accessible if you've made further modifications. Remove the custom ad blocker rule(s) and the page will load as expected.