"Star Spangled Banner" is the third episode of Cimorelli's web series Summer With Cimorelli. The episode was uploaded to YouTube on June 17th, 2014.
Synopsis
Lisa starts a chain of events that leaves Amy and Dani as the only two not sick.
Summary
Lisa searches for her last pudding cup before seeing Lauren with it. Not heading Christina's warning, Lisa eats it after Lauren has been eating it. Lisa and Lauren both fall sick and blame each other for it. Afterward, Katherine tries to clean up their sickness and gets herself and Christina sick. Now all the household chores and money problems fall onto the shoulders of Amy and Dani.
Transcript
Read the full transcript here.
Video Gallery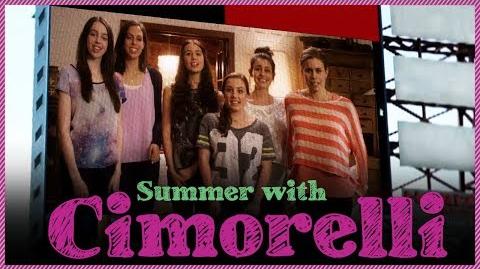 Ad blocker interference detected!
Wikia is a free-to-use site that makes money from advertising. We have a modified experience for viewers using ad blockers

Wikia is not accessible if you've made further modifications. Remove the custom ad blocker rule(s) and the page will load as expected.