Ad blocker interference detected!
Wikia is a free-to-use site that makes money from advertising. We have a modified experience for viewers using ad blockers

Wikia is not accessible if you've made further modifications. Remove the custom ad blocker rule(s) and the page will load as expected.
Made In America

Song

by
Cimorelli

Released:

Length:

3:15

Credentials
"Made In America" is an original song by Cimorelli. A music video has been released on the band's VEVO channel.[1]
Lyrics
Lisa:
M-A-D-E I-N America
M-A-D-E I-N America

Christina:
Striped flag wrapped around my head
Blue, white, little bit of red
Live free like we always said
Oh, whoa, oh

California-born and raised
Work hard, gonna make a name
Gettin' closer everyday
Oh, whoa, oh

Katherine:
And now my life is gettin' better
It's on, no matter what the weather
We're gonna celebrate together
All night long

And they say age is just a number
But we're not getting any younger
So let's celebrate together
All night long

Cimorelli:
Sing it like ooh
Sing it like ohh
'Cause we're made in, made in, made in
In America

It's true
Baby, it's true
'Cause we're made in, made in, made in
In America

Amy:
New York, and back to LA
Sac down, down to MIA
Bright lights in the USA
Oh, whoa, oh

Shout out to the country boys
Small towns, time to raise your voice
Suburbs, come on, make some noise
Oh, whoa, oh

Dani:
And now my life is gettin' better
It's on, no matter what the weather
We're gonna celebrate together

Cimorelli:
All night long
Sing it like ooh
Sing it like ooh
'Cause we're made in, made in, made in
In America

It's true
Baby, it's true (Lisa: That's right!)
'Cause we're made in, made in, made in
In America

Lauren with background vocals by Cimorelli:
I pledge allegiance to the home of brave
Blue jeans, ball caps, and football games
Fireworks outside on the fourth of July
Summer night barbecue, bring the apple pie
From the cowboys riding in the pick-up trucks
To the girls in the city screaming "turn it up"
'Cause we're M-A-D-E I-N America

Cimorelli:
Ohh
Sing it like ooh
'Cause we're made in, made in, made in
In America

It's true (Lisa: Yeah, it's true)
Baby, it's true
'Cause we're made in, made in, made in
In America

Sing it like ooh
Sing it like ooh
Cause we're made in, made in, made in
In America

It's true (Lisa: In the land of the free!)
Baby, it's true
'Cause we're made in, made in, made in
In America <3
Gallery
Video Gallery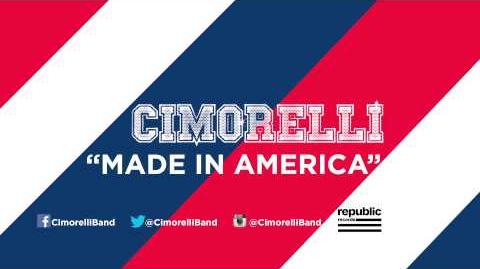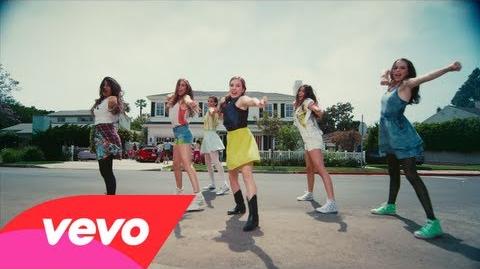 References
↑ 1.0 1.1 http://www.youtube.com/watch?v=-GJF_OaAIVw The day it was uploaded to YouTube